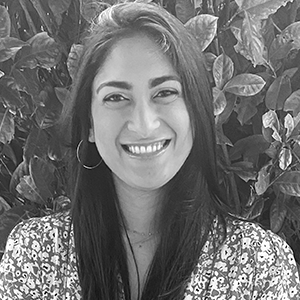 Shalina Nigam
Future Sport & Entertainment
Director
Almost five years on from returning to the United Kingdom after living in the United States to take up an Analyst role with Futures Sport & Entertainment, Shalina Nigam is now the first female Director in the UK office. Shalina's specialist subject is international television audiences and can claim growing the NFL's brand and fandom internationally amongst many key client accomplishments.
Shalina has had a more public facing role in recent times – representing Futures at industry events and presenting alongside the Women's Sports Trust at a number of webinars and think tanks on not only the growth of Women's Sports but also how both broadcasters and rights holders can continue to work together to strive towards gender parity in exposure and coverage.
A member of the Diversity in the Business of Sports 2022 scheme, Shalina still has the same passion for sports media as she did when helping organising the Kicking & Screening Football Film Festival as a student and looks forward to using her expertise to judge the Broadcast Sport awards.