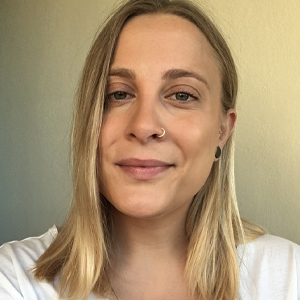 Markela Deverikou
Guarantee Broadcast Engineer
Markela Deverikou is a guarantee broadcast engineer currently working in the broadcast industry for NEP UK. Markela graduated from University of Surrey in 2011 with a first class honours degree (BEng) in Electronic Engineering in Audio Media Engineering. Her career began when she joined a small Outside Broadcast company, Race tech. She took her first steps as a trainee broadcast engineer, working across vision, sound and RF fields.
Markela then quickly progressed to guaranteeing OB trucks, covering events such as Royal Ascot and Epsom Derby. In 2017 she joined NEP's vision department and has been working primarily on fly-pack systems in a wide range of projects from The Beijing Winter Olympics to various reality shows, like ITV's Love Island and Netflix's Too Hot To Handle. She can still occasionally be found on OB trucks at various sporting events and light entertainment shows. Markela is an advocate for diversity and inclusivity.
She has been a Rise mentor helping young people interested in a career in the broadcast industry and in turn supporting the industry with potential new talent. She's an astronomy enthusiast, enjoys live music, exploring new places and practising yoga.